Henley & Grange Soldiers' Memorial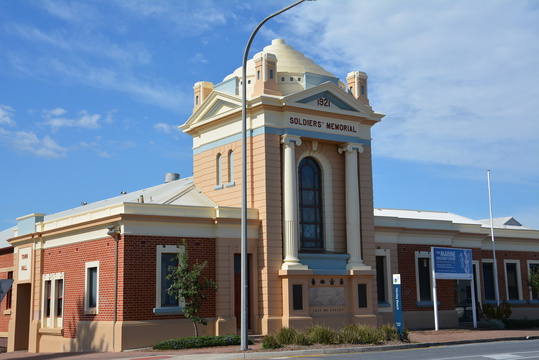 The Memorial was built as part of the Town Hall and is dedicated to the men who served in the Great War (1914-1918). Twenty-eight men from Henley and Grange died in World War 1. The memorial has photos of those who made the supreme sacrifice, plus service and honour rolls, and is intended as a room of silence.
The women of Henley and Grange raised £250 for the beautiful stained-glass memorial window – equivalent to 100 weeks of wages. It was designed in 1919 and measures 3.9m by 1.4m.
It is considered a significant work.
The portrayal of the contemporary soldier includes plating to give colour effects. Etched and painted flashed glass was used in the flag.
The War Memorial was opened just over a month after the Town Hall was opened, on 30 July 1922.
Unfortunately the building is now only open to the public on a few special days of the year but, by clicking on the following link you can visit the virtual Henley and Grange Soldiers' Memorial, which is a 360 degree panorama showing its interior with interactive hot spots waiting for you to discover more about this unique building and to leave a personal reflection of your visit.
Image credit: Henley & Grange Historical Society