Stories from Henley and Grange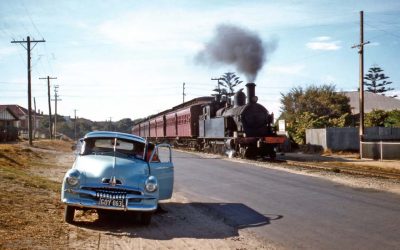 Did you know that there was once a 'street railway line' right next to Military Road that ran all the way from Grange to Henley Beach terminating at...
read more
Henley and Grange – a history note
From the early days of white settlement in South Australia, the district west of Adelaide attracted colonists who farmed on the rich alluvial soils deposited by regular flooding of the River Torrens and various creeks. The development of the region nearer the coast, geographically isolated by low-lying swampy land with large areas of sand and reedbeds, was curtailed until the 1870s when the first roads were built.
The townships of Henley Beach and Grange were developed from 1877 as a speculative venture by a group of investors led by Frederick Estcourt Bucknall and Arthur Harvey. Henley was named after Henley-on-Thames in England and Grange recognized 'The Grange', the name given by Captain Charles Sturt to the cottage he built in the locality in 1841. The Grange Land & Investment Company (later Grange Railway & Investment Company) was formed in 1878 during which year work began to develop Grange as a seaside resort. Hundreds of allotments were offered for sale in the townships but development was slow and it was not until public transport, albeit erratic in nature, was secured in 1882-83 that the two townships progressed. A horse tram service from Adelaide to Henley started in late 1882 and was extended to Grange a few months later. Also in 1882, a narrow gauge railway connecting Grange with Woodville was opened and eight (of a planned 20) luxury terrace houses – the Marine Residences – were completed at Grange where the company also built the jetty and a hotel. At Henley, construction of the jetty was funded partially by public subscription.
In 1883, with Adelaide at the peak of a boom, Henley had 24 houses occupied by 134 persons and Grange had 30 houses and at least one shop. In the next few years the efforts of residents and speculators ensured that these 'isolated village' townships thrived and became popular seaside resorts for sailing regattas, sports days on the beaches, sea bathing and promenading on the jetties. Further impetus occurred when the railway from Woodville, which had been taken over by the Government in 1886, was extended to Henley in 1894 and the tram service was electrified in 1909. Although a viaduct now carried the tramway across a flood-prone area at Henley, regular winter floods still caused havoc to rail and tram services. It was not until 1937, when the River Torrens outlet at Henley South was completed, that the problem of flooding was overcome. Rapid housing development throughout the region followed after World War II, fuelled in part by the more ready availability of motor transport.
Today, the popular seaside suburbs of Henley and Grange have largely fulfilled the aims and prophecies of their founding fathers. In spite of the passage of the years, a significant portion of the early streetscape remains and thus some of the 'village atmosphere' of the original townships is still discernible.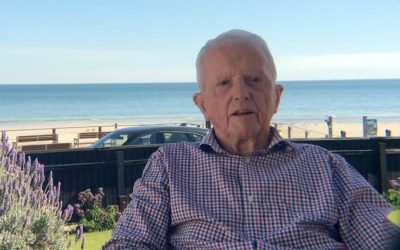 My name is Merv Allen. Fortunately, I've been able to live on the Esplanade at Henley South all of my life. I was born in 1939 and my father and my...
read more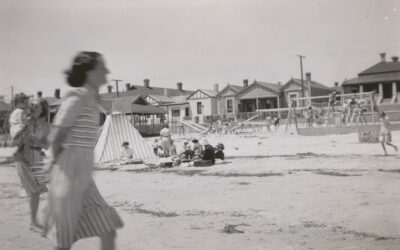 Edna Dunning's many vivid memories of Henley Beach have been recorded in several H&GHS journals. Here are just five of her interesting stories ….
read more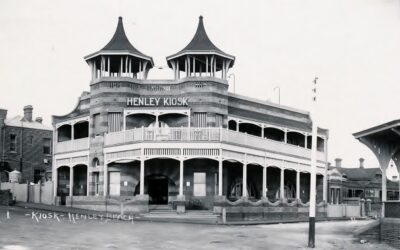 The Kiosk in Henley Square has played a significant role in the life of local residents. It opened in December 1911 with a roof top garden and...
read more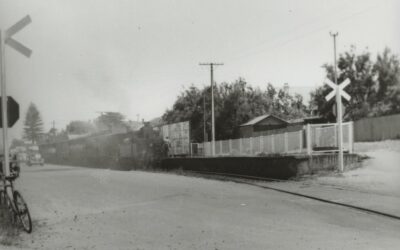 In the 1880s a railway line was built between the townships of Woodville and Grange, influencing the growth and development of the Henley and Grange...
read more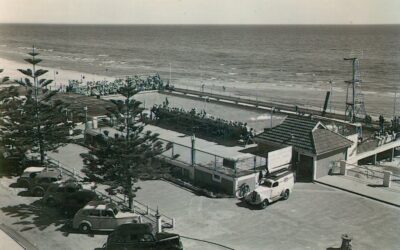 Narrated by Helen Lewis Have you heard of Dawn Fraser, Australia's swimming legend? She was voted Australia's greatest ever female athlete in...
read more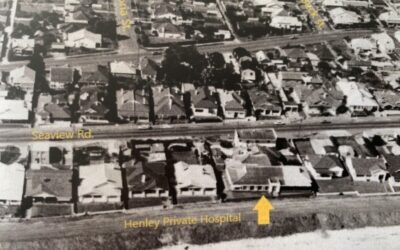 Were you ever a patient at the Henley & Grange Hospital? The Henley & Grange Hospital at 367 Esplanade Henley Beach was between Reedie and...
read more
Banner photo: Henley Beach January 1948, Courtesy of th History Trust of South Australia [public domain]