The Grange Railway Station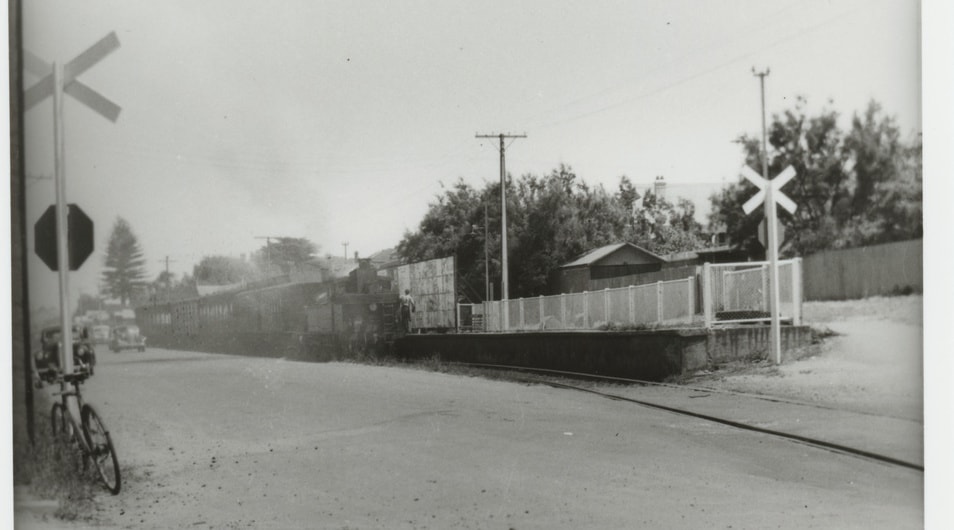 In the 1880s a railway line was built between the townships of Woodville and Grange, influencing the growth and development of the Henley and Grange region. The line branched off from the Adelaide to Port Adelaide Railway line – which had already been in operation for over a quarter century and was in fact the first steam railway service in South Australia.
A narrow-gauge line was laid from Woodville to Grange, with a station terminus on the Esplanade where there was a double platform and turntable. The line was formally opened on 30 September 1882. As a consequence of the different rail gauges, passengers to and from Adelaide had to change trains at Woodville. However, by 1909 the growing population in the region justified the cost of alteration, and hence the narrow-gauge line was widened to enable a through service from Adelaide.
Grange Station was the terminus until 1893. Early plans were to extend the line northward along Military Road towards Fort Glanville. However, the decision to build the line to Henley Beach resulted in the curve southwards and the relocation of the Grange Station to the northwest corner of Military Road and Jetty Street. In 1909 a new curve with a larger radius was constructed as the original curve was too sharp and often caused derailments.
With the introduction of the electric tramline on Henley Beach Road. that length of the railway line extending beyond Main Street (or 'Jetty Road' as it was known) to the terminus at Henley Beach Road became virtually redundant. In 1957 the Metropolitan Transport Advisory Council closed the Grange to Henley line.  For nearly thirty years the Grange Station, and hence, the termination point of the railway line, remained located on the north-western corner of Military Road and Jetty Street. The ticket office on the platform was closed in 1985 and demolished in 1986 when the station was finally closed.
The old Grange Station, the crossing and signal gongs were all decommissioned on Sunday 9 March 1986, the same day the new station was commissioned. All that remains of the old station today, and of the line's continuation south of this point, is the concrete platform. The closure of the Grange Station at this location, however, was the final step in wiping clean any obvious evidence of a grander era of public transport, which many people would fondly remember.
Grange station today is located on the eastern side of Military Road, adjacent the garage / service station.
(abridged from an article written by Rob McDade in H&GHS Journal 21, 2000)
Image credit: Henley & Grange Historical Society
Please share any memories you have of the old Grange Railway Station.