Trams and Trains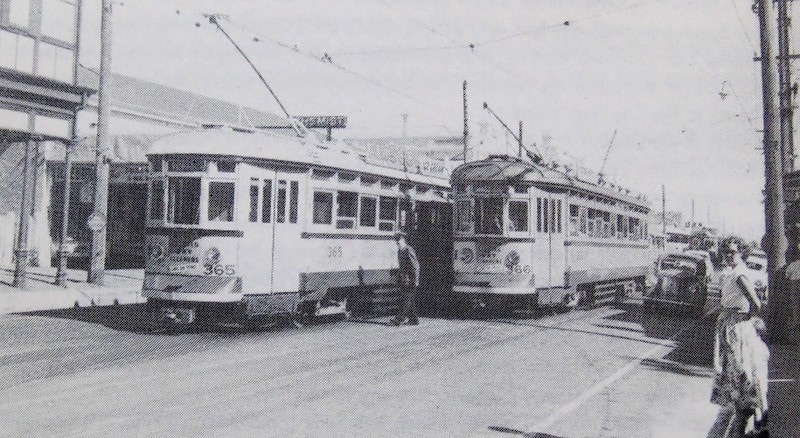 Trams and trains featured prominently in the history of both Henley Beach and Grange!
It was trams that brought the first passengers to Henley beach though on a double-deck horse drawn tram travelling from Adelaide in the 1880s. In 1883 the horse tram line was extended from Henley to Grange, and this became the longest line in Adelaide. The line was a single track with passing loops. The tram couldn't have the usual roof canopy to protect the top-deck passengers however because of the risk of seaside winds overturning the tram.
The horse tram also brought the mail to and from Adelaide. The tram service was so popular, especially during sailing regattas, that a 300-metre-long siding was built from Main Street to North Street to hold parked trams on days of special events. Electric trams were introduced in 1909. The tramline from the city followed Henley Beach Road, over a viaduct (roughly where HMAS Australia Drive is now) then onto Seaview Road. Trams terminated at Main Street. The viaduct (a wooden trestle structure about half a mile long carried the trams above the normal level of the normal winter floods, but the service was often interrupted. Trams stopped running in 1957. Steam train services were introduced in February 1894 as an extension of the existing Grange line. The extension went south along Military Road to a terminus right here at the site of the current police station on Military Road. The Henley Beach railway station and terminus stretched from Main Street to Kent Street. The steam train with its six or so carriages would pull in and after the engine was uncoupled, it would proceed to the end of the line, where two water tanks were provided to fill up for the return journey to Adelaide. The engine would then go on a spur line, or loop, pass the standing carriages to where there was a turntable which was a favourite spot for children watching the steam trains being turned around, then go back on the spur line to be re-coupled up at the front, ready to move off when the time came. Station facilities consisted of an island platform and shelter with a ticket office. The railway line from Grange to Henley was closed in August 1957 due to the track being close to public roads with no fencing between. Since then, Grange has again been the terminus of the service.
Image credit: Henley & Grange Historical Society