Jerusalem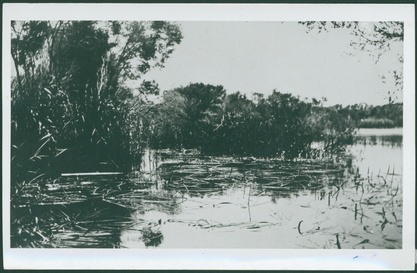 In this area 120 years ago there was a tall reedy wooded area, with large gum trees and an artificial lake, which had been dug by hand.
This was the Jerusalem Wildlife Sanctuary created by William White, son of a pioneering settler of South Australia, John White who arrived in Adelaide in 1836 and quickly established himself as a builder and landowner in the Reed beds area.

William White, John White's second son was a conservationist and someone who we may call, a citizen scientist. He was concerned with the preservation of the native wildlife of the Reedbeds area and in 1893 he conceived the idea of forming a small lake as sanctuary for native birds on the family farmlands, which he named "Jerusalem".  For this purpose, he leased a piece of ground only a few hundreds of yards from the sand-dunes near Henley Beach South. It was 25 acres in size and was located where the Henley South Tennis Club courts are now.  
A 1919 paper on Jerusalem presented to the Royal Society of South Australia, said:
"The surroundings were planted with a variety of native shrubs and trees which afforded both shelter and food for the birds, and these soon took advantage of this sanctuary, where they nested and became exceedingly tame, as did also the land and water snakes, which made friends with their human protector, whom they came to recognise."
The sanctuary was a veritable "Bird Paradise." William planted trees and shrubs, and excavated hollows in the ground.
In one part of the sanctuary, excavation of the ground to about 6m deep created an artificial lake with an island in the middle, named Jericho, which became home to numerous reptiles.  At 3 – 4m below ground level which was also below sea level, the digging exposed various Aboriginal artefacts including pounding stones and flaked stone tools.
The sanctuary was very popular with children, Alan Leonard recalled that in the early 1900s:
"Some of the boys used to swim in the lagoon…. I've had many a walk there to see the wildlife – there were coots, water hens, ducks, rabbits, possums, tortoises, huge yabbies and red bellied black snakes." (H&GHS Journal 1983)
However, the sanctuary was not popular with everyone. 'The Register' Newspaper in August 1919 wrote that:
"Residents of Henley Beach and the neighbourhood of the Reedbeds all know the enclosure called 'Jerusalem'.  To some it is a fearsome place, with stories of "hobgoblins" and the like, and tenanted only by snakes, water rats and rabbits.   …the place has gone to ruin".  
The benevolent intentions of William White were to some extent realized. However, Jerusalem fell into disrepair over time.  Attempts to restore it by different groups were never fulfilled.  Then with improved drainage following the building of Breakout Creek and the Torrens Outlet in 1937, Jerusalem began to dry out' .  In the 1960s, the dried-up lake was infilled and the Henley South Tennis Club courts were built on the site.
Image credit: State Library of South Australia B 17494