A Grange School Story (c. 1920)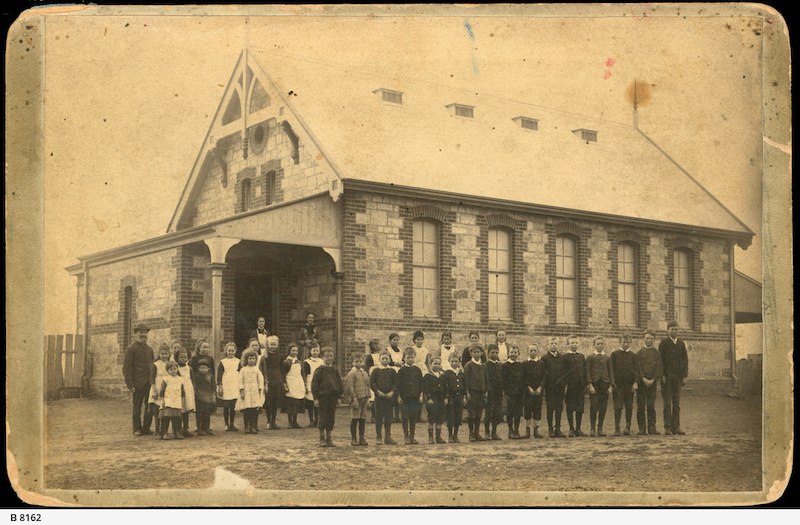 Ron Jones, who was born in 1915, lived in Grange since he was two years old. In this audio interview recorded by George Willoughby in March 1988 he recounts a personal story of boys at Grange Primary School swimming in a nearby creek in the 1920s.
Over by Mr. Fisher's place, beyond it, where the river came through, was rather a picturesque little spot, with lots of Teatree's and other trees, and there was quite a nice deep hole where you could swim. Mr. Fisher had built a wooden bridge across the creek, so he could get across beyond. They used to grow things out there for his house.
Well, we as kids, at lunch time, would get out and sneak over. It wasn't far, just down there and across the railway line. And we would have a swim. We had no bathers; we just stripped off and went in for a swim. And we used to strip the bark off the Teatree's, tie it round our waist, and paint our bodies with black mud.
When the train came down it used to come through during the school lunch break and us kids used to get out there and dance in full view of the train, with no clothes on, just strips of bark hanging around.
Well, we got 'dobbed in' by some woman. She said it was disgusting that boys should dance in view of the train like that. Anyhow, she got in touch with the headmaster.
On this particular day, when we got back to school, there was nothing said till we had to fall in. In those days, we all wore those little skull caps – red ones, black ones, brown ones, all sorts of skull caps. When we lined up – we all had to line up to go into school – the headmaster told the teachers he wanted to address us.
He said: 'Now I want all the boys to take their caps off.'
Well, we thought, we didn't know what this was, so we took our caps off; and he walked up and down the lines, and everybody that had wet hair, he gave them a belt with the cane. Then he got up in front of us, and told us off for going over to Fisher's, and dancing in view of the train. He didn't object to us having a swim, because it was pretty hot in those days, but he said: 'I don't want you to go dancing in view of the train like that, offending the ladies.'
So, the next time we decided to go for a swim, we went and had our swim; and, when we came back, we got every kid in the school and wet his hair. And so, he lined us all up again, and told us to take our hat off. Because every lad in the school had wet hair, he belted the lot of us. 
(As told by Ron Jones, to George Willoughby, in an interview in March 1988. Ron, who was born in 1915, lived in Grange since he was two years old.)
Editor note:
During the much longer interview, Ron Jones gave a great deal and valuable information concerning the history of Grange. This audio recording was edited and  digitised by the H&GHS from an audio cassette tape and the accompanying transcript is from an article in the H&GHS Journal 9 [1988]. Other reminiscences of Ron are found in Journal 10 [1989]. There will be additional audio recordings of Ron's interviews published on the website during 2024.
Image credit: State Library of South Australia B 8162 [public domain]
Did you attend Grange PS? Did you ever go swimming in the nearby creek? Please share your memories with us.