Henley Town Hall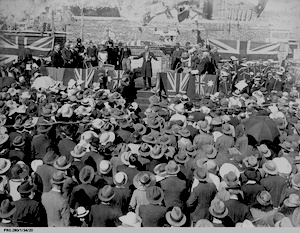 Narrated by Marie Hagen
The Henley and Grange Council decided to build a Town Hall in 1919 and used £1,500 in funds raised through the 1921 Henley carnival to begin the build and another £6000 as a loan.
The foundation stone was laid with a silver trowel by Mayor Beck as school children filed past, each one tapping the stone three times with the trowel. A bottle containing newspapers, coins and a list of Council members was placed beneath the foundation stone.
It was opened for use on June 22nd 1922, and has been used since for both large and small gatherings. It has seating for 300. The Hall was used as the Odeon picture theatre for many years and is currently being used for classes in Tai Kwando, computing and dancing.
Image credit: State Library of South Australia PRG-280-1-34-20
Did you ever watch a movie in the Henley Town Hall?