Henley Beach Hotel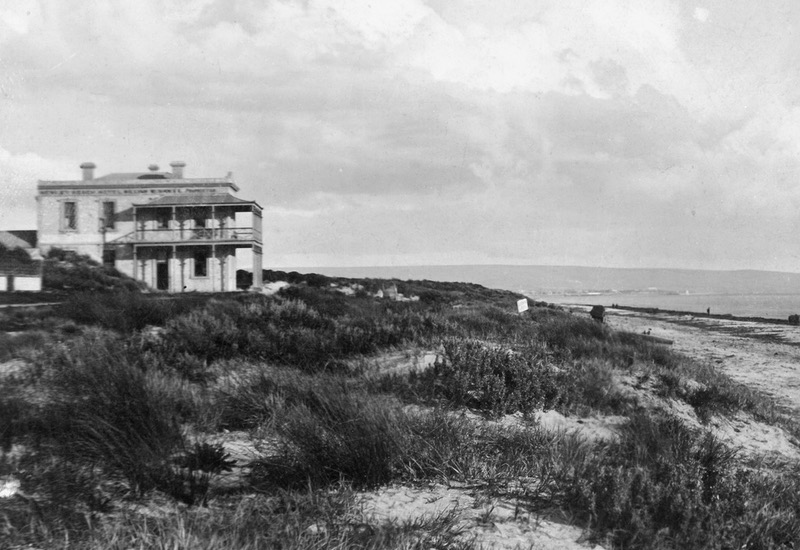 The Henley Hotel was erected in 1878 by Mr J. Stewart of Port Adelaide at which time it was believed that the Henley Jetty would be constructed opposite the site of the hotel. Sadly, for Mr Stewart this didn't happen and the Jetty was built further north in 1883.
Mr Stewart foresaw the need for a hotel in the newly developing area of Henley Beach and had the hotel built near the foreshore on the sand dunes – where it stood isolated for many years with its large verandahs overlooking sand dunes and the sea. This exposed site meant the hotel was susceptible to storm damage, and in 1892 a thunderstorm caused the almost complete demolition of a dancing hall at the rear of the Hotel. The end walls were blown out completely, the roof was lifted off and huge sheets of galvanised iron were sent flying onto Military Road.
The hotel was one of the first buildings in Henley Beach and reflects the early development  of Henley and Grange as seaside resorts. As the first hotel in Henley Beach, it was the focus of many events, described in the screens below.
Lancelot Hurcombe recalls that in the early 1900s:
"I remember father going into the Henley Hotel for a tot and purchasing me a bush biscuit, then he would take me out into the sand hills opposite where he could have a yarn with Billy Lewis or a Crimean War veteran ….." (H&GHS Journal 1982)
From 1911 to 1922 the hotel was named Whallin's Henley Hotel, with Herman and Charles Whallin the proprietors. In the 1960s and into the 1980s the hotel operated as Harvey's Hotel, so named for the proprietor, Lloyd Harvey.
Today – it is simply named the Henley Beach Hotel.
Image credit: State Library of South Australia B 2233 c.1891
Have you reminiscences about the Henley Beach Hotel. Please tell us about them?