Fry's Meat Store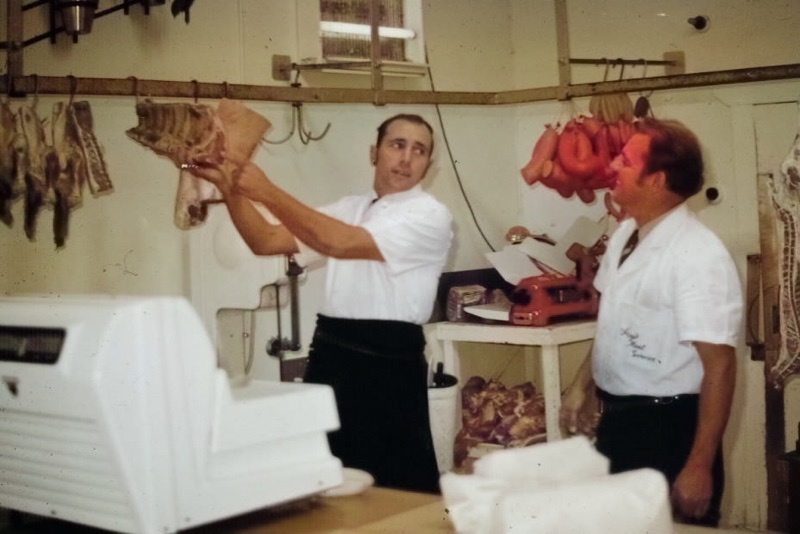 Gum leaves in a butcher shop? Sawdust on the floor? Why?

Arthur Fry came to Henley Beach in 1924 and opened a meat store at 9-15 Henley Beach Rd. This shop is the oldest local business conducted by the same family in the same premises. 
For thirty years trams came off the Reedbeds Viaduct and passed close behind the store, along what is now HMAS Australia Road. At the front of the shop, Henley Beach Road was not the wide, well-surfaced road it is today.  Traffic was light enough for the Fry boys to kick a football along the road. 
It was a small shop, had a little back room, a little fridge, an old marble-top counter, and a cash register made of cast-iron. In the early days a horse and cart provided daily home deliveries from the shop. Gum leaves were collected from the nearby River Red Gums and hung amongst the meat, and sawdust was sprinkled on the floor.
Arthur Fry passed the business to his sons Barry and Don. Barry's eldest son Kevin then ran it from 1991, however as none of his children wanted to follow the mantle of the previous Fry's, on Kevin's retirement in 2021 the family sold the business to a new owner who has kept the business name.
Opposite Fry's Meat Store is a garage that was briefly known as "McKenzie's Garage" when it was the main location for the film "Return Home".  Made in 1989, it starred Ben Mendelsohn and Frankie J Holden.
The film had positive reviews:
In the Variety magazine review, David Stratton

said "Fascinating stuff. Rings true in every detail."

And awarded it 5 stars. 

Scott Murray in the Cinema Papers review said

"One of the finest films made this decade."
The film won the Australian Film Institute award for Best Director, and was screened at the Berlin Film Festival.  While little known today, the film has a cult following. 
Image credit: Henley & Grange Historical Society
Have you visited Fry's Meat Store? Please tell us about it.