Floods and Chooks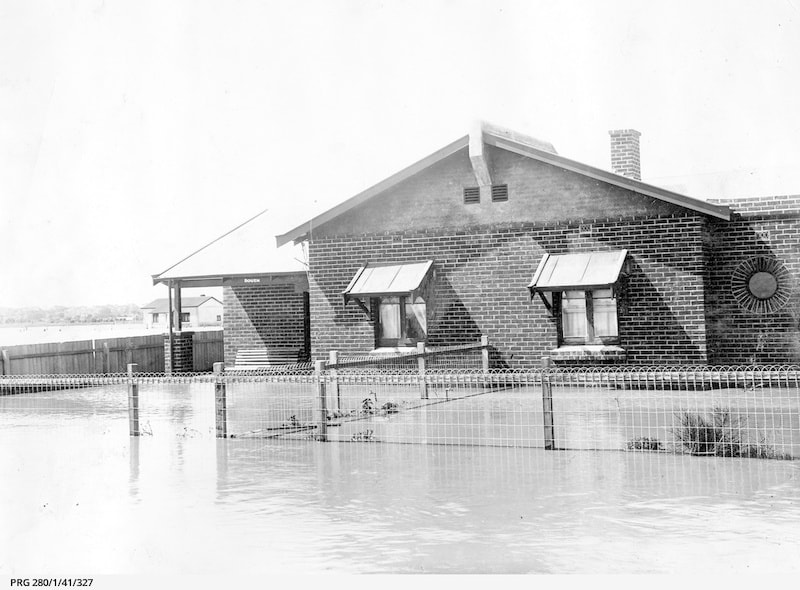 Edna Dunning lived all her life near the tram viaduct or in later years near the former site of the viaduct in Hazel Terrace, Henley Beach South.
Edna reminisces about flooding that occurred in the viaduct era.
"Few of the modern generation know what you are talking about when you mention the tram viaduct. So that the electric tram service to Henley Beach from Adelaide could begin a wooden trestle viaduct which at first was eight feet off the ground was built across the Reedbeds to carry the tram track over the normal winter floods.
During the 1920s periodical flooding of the Torrens river would cover much of the Reedbeds and surrounding countryside. It was almost annual event. When the floodwaters came down, as they used to do in those days, my first job on arriving home from school was to take off my shoes and socks and go down to rescue the chooks off their perch.
They would be put on the back verandah. Everyone had a few chooks in the back yard in those days. If the floodwaters were half-way up our back yard, then the Grange was under water, the trams would have to be stopped, and out would come the old drays, pulled by horses, to get the people home.
After the floodwaters had receded, and the sun came out, half the population would be out in the paddocks gathering mushrooms. They were very plentiful in those days. Now all that land is built on.
They were good old days in Henley Beach – the beautiful, clean, long beach, along which you could walk for miles. The crowds that used to hang on the trams on a hot night to get to the beach to get some relief from the hot days.
I love the place, and I never want to leave it, or live anywhere else."
Image credit: State Library of South Australia PRG 280-1-41-327