An Extended Stay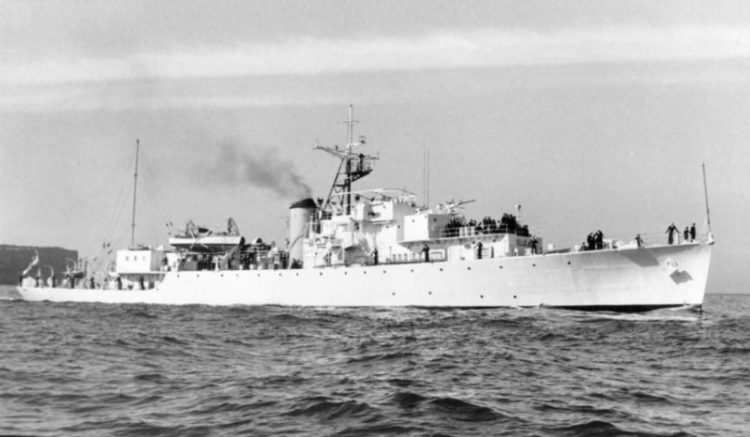 On Sunday, 11th April, 1948, Adelaide awoke to hurricane winds, unprecedented in the history of the state. Winds gusting to 80 mph (130 lans) lashed the suburban coastline. Navy ship HMAS Barcoo was driven ashore at West Beach, 1 ½ miles north of Glenelg. Barcoo, a frigate of 1420 tons, for several weeks had been engaged in the peaceful activity of charting the waters of Gulf St. Vincent. Barcoo was unaware of the intensity of the approaching conditions and on Friday 9th she anchored off Glenelg, intending to stay the weekend. In fact, she was forced to stay much longer.
At the height of the storm Barcoo's anchor began to drag and before she could get under way, she had grounded on the gulfs sandy bottom. Though her engines were eventually started and put into reverse, they were unable to free her. Barcoo was stuck, hard and fast, in nine feet of water, her bow 65 yards from shore. Authorities considered that, when the seas moderated, tugs would free her.
To help in that task, heavy equipment and stores were unloaded onto a lighter (flat bottom barge). However, on Monday, a 4 hour effort by three tugs from Port Adelaide moved her only slightly. Tuesday, Wednesday and Thursday came and went without any further movement.
On Friday, it was decided to dredge a channel and a Harbours Board bucket dredge was called into action.
In the meantime, power lines had been erected from shore to ship to enable oil to be pumped out to further lessen Barcoo's load. Unloading of other materials continued at low tide. To overcome a shortage of water on board, 200 yards of piping was laid from shore, and a phone was also connected. A camp had been established on shore for crew guarding unloaded equipment. At low tide, games of football helped crew pass the time away.
The 'Advertiser' reported that 80,000 spectators lined the adjacent shore during the weekend with enterprising entrepreneurs setting up food outlets.
On Monday 19th, two tugs had some success, moving Barcoo several yards seaward, along the dredged channel. Navy ship HMAS Warrego, a sloop of 1050 tons, arrived during the night from Bass Strait where she too had been surveying. On Tuesday morning, with Warrego's engines supplying power equal to two tugs, and with help also from two tugs, Barcoo was pulled free.
An examination by Navy divers revealed Barcoo had suffered no structural damage during her enforced stay, and she resumed her surveying duties.
As I gazed upon her during her enforced stay, I thought back to the last time I had seen Barcoo. On 3rd November, 1944, HMAS Swan, on which I was serving, and Barcoo, left Lae in New Guinea, escorting troops of the 5th Division AIF aboard the troop ship Cape Alexander. We were to provide fire support for their landing at Jacquinot Bay, south west of Rabaul in New Britain. The landing was successful and after three days in the area Swan and Barcoo left to go their separate ways, signalling to each other as they did so, 'Goodbye and good luck' . Little did I realise that when I next saw her, Barcoo would be wallowing helplessly in our local waters.
Image credit: Royal Australian Navy https://www.navy.gov.au/hmas-barcoo